Discover more from Food For Thought.
Food. Thoughts. Mostly Warm Feelings From NYC.
I've been doing a lot of soul-searching lately. Trying to figure out what I want out of life and how I want to show up every day. How can I show up being my most authentic self and still do the things I am passionate about? There's so much noise in the food world and lots of it is made by people who want to center themselves in the conversation. From the newest restaurants to the hottest new chefs to the newest products to the newest take on The Bear. So much of what I consume about food has become cyclical or redundant to the point that I've recently been questioning why I am even in this field.
Private chef gigs, catering, and teaching culinary education classes have taken a toll on my hands and body; while writing has become a catharsis for my ever-so-active brain. It's been great to write, reflect, and connect with others over food on Substack. My little pocket of the vast newsletter universe is one of my favorite places to be, but it hasn't been enough to satiate this deeper calling inside of me.
New Beginning
In late May I started a full-time job that fell into my lap. After months of applying and searching for meaningful employment, one job unexpectedly appeared on my radar.
I've mentioned in the past that I've volunteered with my local community center to prep meals for the neighborhood fridge. Well, the person in charge of community volunteering was leaving the organization and suggested that I apply for her job. I applied, went through a couple of rounds of interviews, and got the job! They had already known my work ethic from contract work during the school year as their culinary educator for middle schoolers and so they thought it was a no-brainer. 
My role as a community and volunteering program manager (yeah, that's a mouth full) is integral to my neighborhood. I organize volunteering opportunities for prepping meals for the fridge, diverting perfectly good food from going to landfills, organizing donation drives for migrants, and mentoring/supervising teen interns for the summer who will be working in our garden. No two days look the same, which keeps me engaged and on my toes.
Garden of Eden
My favorite thing about my job has to be our food producing garden. We are growing all kinds of vegetables, herbs, and edible flowers that are then sold at our Youth Farmer's Market. Plucking mini strawberries, eating spicy nasturtium flowers, or watering our 18 garden beds has been a daily "pinch me" moment. When I enter the garden I literally lose myself in the smell of hearty basil growing at the feet of our tomato vines. I gently pick periwinkle borage flowers and let them sit on my tongue as they dissolve into a sweet cucumbery taste. I chat with the ladybugs that attach themselves to the lettuce I harvest telling them, "Where do you think you're going, little friend?" The garden has been a healing balm for the grief I've endured from the loss of my dog Latte. It's been therapeutic, to say the least.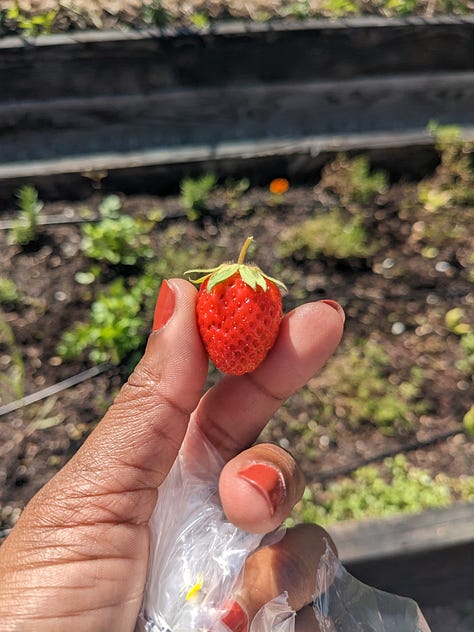 Food in a Different Light
In just the short amount of time that I've been working there, I have met so many people from different walks of life who have attended our free monthly food pantry or who frequent the fridge. Many of them are senior citizens living on a fixed income or are families with tight budgets just trying to get by. In the last month, I've helped distribute over one thousand pounds of perfectly good bread that was going to be thrown out from a bakery warehouse because of "imperfections" which could be slight size variations, color, or weight. My job is to make food accessibility easier for those who need it and to help reduce food waste by organizing volunteers to pick up excess food and put it in our fridge. 
I've described my new job to friends as kitchen adjacent work. I'm not shopping, prepping, and cooking for hours anymore. Instead, I'm feeding people by keeping the neighborhood fridge full and lending an empathetic ear to anyone who's been going through tough times. It's definitely no cakewalk but I'm glad my heart feels full each day when I clock out and walk down the hill towards home.
---
Paid Subscribers
Here's a preview of the next Eating A-Z in NYC that will pop up in your inbox.
Cook. Eat. Repeat.
Natalie 💗✨
Food For Thought. is a reader-supported publication. To receive new posts and support my work, consider becoming a free or paid subscriber.